As anyone who owns a rental property can tell you, it's a lot of work. Not only do you have to find good tenants for your property and keep up with its maintenance needs throughout the lease, but you'll also need to invest the time and energy into "turning it over" and cleaning the property between tenants. At ClearPro, we can help make that last part easier with our carpet, tile, and window cleaning services. We're an experienced rental property cleaning services provider here in Scottsdale and North Phoenix.
Have our team clean your rental property's carpets between tenants
Ask any longtime property owner, and they'll tell you: renters put a lot of wear-and-tear on carpets. That goes double if your renters have either children or pets. It's probably not feasible to tear out and replace the carpet after every tenant moves out, but you can—and should—have a professional clean the carpets and ensure they're ready for the next renter.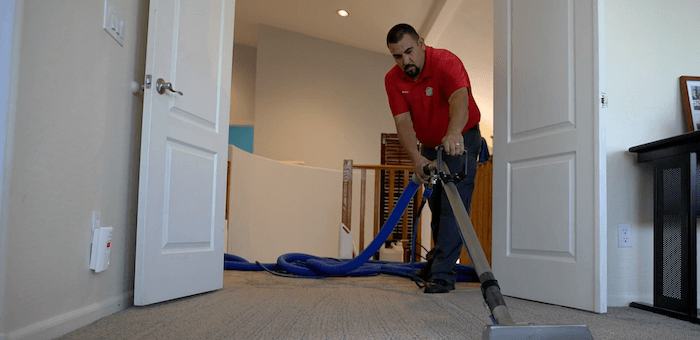 Our team specializes in carpet cleaning for property management companies. Our thorough cleaning process, which includes advanced encapsulation technology designed to quickly lift dirt from heavily trafficked carpets, will leave your rental property's carpets looking great and smelling fresh.
If you're dealing with carpets that have seen heavy damage over the past lease, don't worry. Our team has the expertise and equipment needed to lift heavy stains from oil, coffee, paint, and pet urine. Under Arizona state law, landlords are not allowed to deduct normal cleaning charges from the security deposits of tenants, but you may be able to do so if the carpet is heavily soiled or damaged. In either case, you'll want to bring in a professional for some heavy-hitting cleaning.
Make the tile and grout look like new again
Unless your prior tenant liked to pour brewed coffee all over the kitchen floor, you probably don't need to have the tile and grout in the kitchen and bathrooms cleaned between every lease. However, after several years, you may notice this starting to look dirty—and so will prospective renters. This can lower their interest in the property and limit your options moving forward.
When that happens, you need to bring in Scottsdale's tile and grout restoration experts at ClearPro. Our team uses a pH-neutral cleaner to effectively remove years of wear-and-tear from your tile and grout. Many property owners are shocked to see the difference it makes. If you bought the property used from someone else, you may have never even seen what the tile looks like fully cleaned.
Here's one thing that's for sure: the old toothbrush cleaning trick just isn't going to work, and using the wrong type of cleaner can damage your tile. This is a job best left to a cleaning professional.
Show off your property's best views with professionally cleaned windows
Whether you own an entire building or just a single-family home, you want to show off its best features to your prospective tenants. This is especially true if your rental property is targeted at the luxury market, where views matter and renters expect a clean, modern-looking home.
If so, you need to call us out and have us professionally clean the windows and shade screens on your property. After all, nothing takes away from a mountain view or a beautiful backyard like spotty or dust-coated windows. Having your windows cleaned ahead of showings is like your property putting its proverbial best foot forward!
Our team is ready to take care of your rental property
From single-family homes and Airbnb's to apartment complexes and multi-unit buildings, ClearPro Window & Carpet Cleaning is ready to help with all your rental property cleaning services here in Scottsdale and North Phoenix. To get a free quote from our team, contact us online or give us a call today.
https://clearproclean.com/wp-content/uploads/2020/05/Rental-Property-Cleaning-Services-In-Scottsdale.png
340
700
cp
https://clearproclean.com/wp-content/uploads/2023/06/clearpro-window-and-carpet-phoenix-312.png
cp
2020-05-07 15:01:27
2021-06-06 14:59:56
Call our team for rental property cleaning services in Scottsdale & North Phoenix